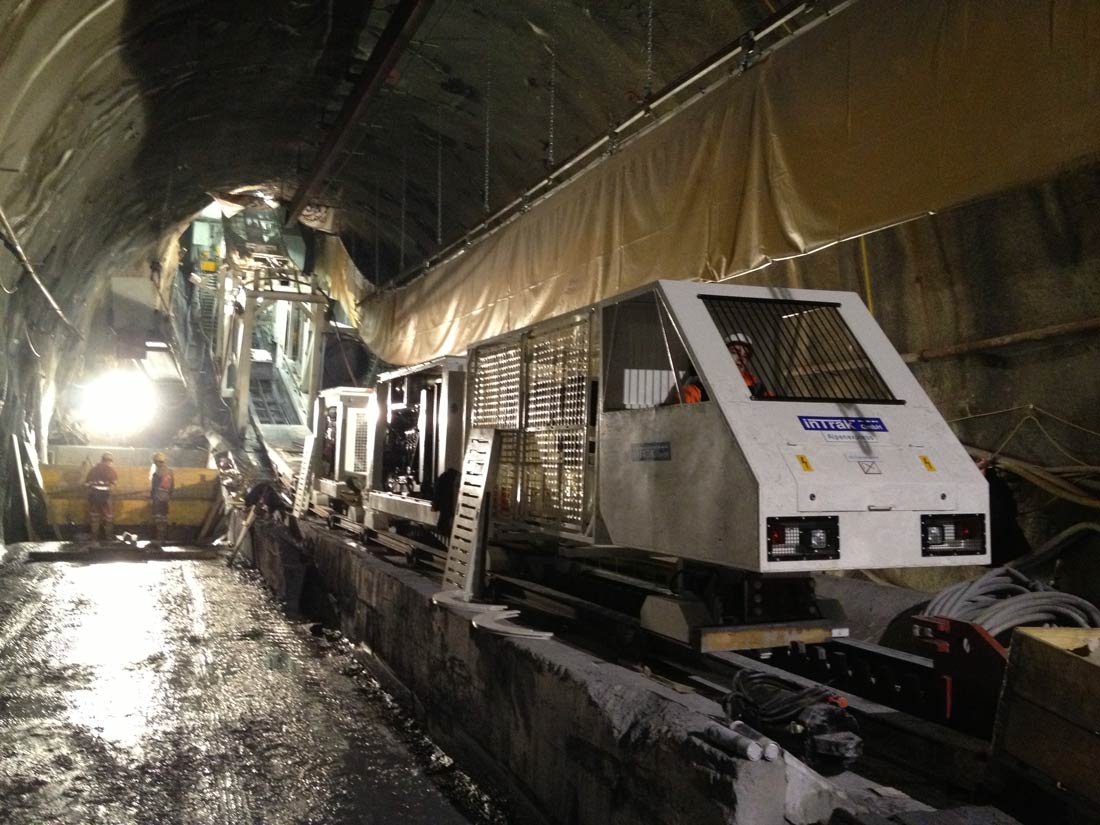 Rack & Pinion locomotive RP 250 at the Kaunertal power supply
The Kaunertal power station was built in 1961 and consists among others of the storage basin Gepatsch holding 168 million m³ and the power plant Prutz with an annual output of 661 GWh.
In order to achieve these values it ​​was essential to build a new pressure shaft. This new pressure shaft has a length of 1430 m and a gradient of 60% (31°). It was advanced to a diameter of 5.5m with a tunnel boring machine (TBM) and reinforced with concrete tubbing.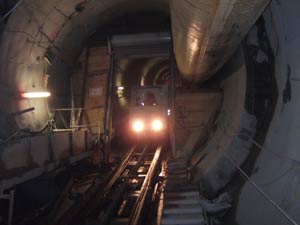 inTrak Rack & Pinion locomotive RP 250 in the new pressure shaf

A particular challenge in this project was in logistics. To provide a TBM in a 60% gradient continuously with material and tubbings is no easy task. Here the inTrak was able to ensure the success of the project with relevant and extensive experience.
The inTrak developed the Rack & Pinion locomotive RP 250 for the continuous supply of the TBM with segments and other material. For this purpose, the RP 250 interlinks to the special rails on the tunnel floor by its Rack & Pinion drive unit. By thanks to the positive connection it was possible to transfer the 250 kN of pulling force steady and slip-free to carry up to 20 tons of material.
Thanks to the solid function of the Rack & Pinion locomotive other tasks for transport where added to the scope of the RP 250. Soon it was also responsible to deliver material in the WS-subchamber additionally to the pressure shaft.
Because the raisl where designed to negotiate with slope angles, it is possible for the RP 250 to go from a flat level into an inclined shaft and vice versa without any problems.
Technical Data:
| | |
| --- | --- |
| Driving distance: | 1430 m |
| Inclination: | 31° or 60% |
| Energy supply: | Diesel |
| Installed power: | 360 kW |
| Power unit | Hydrostatic Rack and pinion drive |
| Driving speed: | max. 2,0 m/s |
| Total weight: | 33,4 t |
| Payload: | 20 t |
| Brake: | Rail brake |
---
Contact and more informations:
---
Tags: rack,, pinion,, locomotive,, powerplant,, energy,, incline,, pressure shaft,