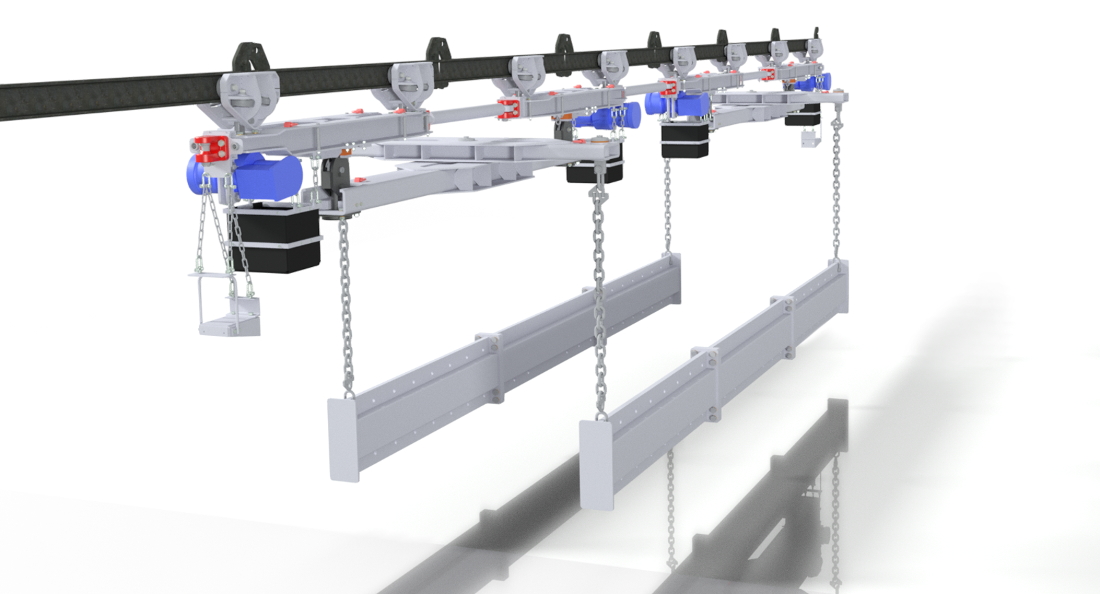 Heavy lifting beam
The Heavy weight lifting beam from inTrak was designed and built for the transport of heavy devices and machines in underground mines. Integrated into a diesel or battery driven Monorail, the object can be transported safely and without any disturbance anywhere through the the whole mine along the roof gallery. Special attention was paid to the flexibility of this transport device.
Heavy transformators and other complicated materials can be transported with this solution comfortably, reliably and absolutely safely through tunneling sites. As with all our solutions, the customer can choose from various sources of energy supply. Of course, the heavy load lifting beam can also be equipped with a radio remote control.
The base consists of two Universal lifting beam and two joint traverses. These specially designed traverses allows the load to even negotiate with curves of more than 90°. The permissible payload can be to up to 32 tons. If the joint traverses are dismantled, the two Universal lifting beams can be used independently for regular transport jobs. Hereby each single lifting beam is able to deal with up to 16 tons.
Technical data:
| | |
| --- | --- |
| Total length: | ca. 13.400 mm |
| Relevant heigth: | ca. 720 mm |
| Lifting height: | 4.000 mm |
| Deadweight: | ca. 6.600 kg |
| Payload: | 32 t |
| Lifting speed: | 2,5 m/min |
---
Contact and more informations:
---